Sporting Crypto - April 4th 2022: Web 3 Football Management Game Footium Raise $3.35m
We welcome 41 new subscribers to the Sporting Crypto Newsletter who have joined us over the last week!
Join 1177 readers who are interested in exploring where Sports meets Crypto. If you're reading this and still haven't signed up, click the 'Subscribe' button below to join sports industry leaders and fans learning about Web3!
If you're already subbed - thank you very much. Please be sure to share the newsletter with your friends and colleagues!
---
Intro Notes, Plugs & Amendments 🔌🔧
Hey everyone and welcome back to the newsletter.
Last week was likely the most contentious edition yet as I received lots of positive and constructive feedback regarding my 'takes' on the Liverpool NFT drop. It wasn't meant to be contentious, they were just my honest thoughts!
I'm grateful for this feedback as it lets me see the other side of the coin, but that doesn't mean my opinions have changed.
I'm looking to rebrand Sporting Crypto to something a bit spicier and more professional, as per my tweet below. If you know someone who is a great brand designer or art director, please do let me know!
🔌I'm looking for someone to do a full brand redesign of Sporting Crypto. Please get in touch if you know someone appropriate!
Looking for someone to do a full brand re-design of Sporting Crypto my newsletter (
Sportingcrypto.substack.com
) If you know anyone who'd be a good fit (Art Director/Brand designer not just a graphic designer) please tag them below :)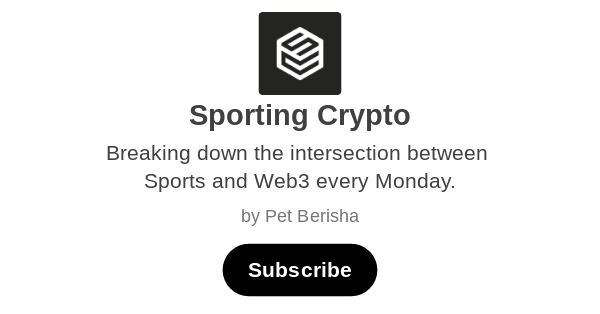 Sporting Crypto
Breaking down the intersection between Sports and Crypto on a weekly basis. Click to read Sporting Crypto, by Pet Berisha, a Substack publication with thousands of readers.
sportingcrypto.substack.com
🔌I spoke at the Ethereal Collective event last week!
🔌We're hiring over at Soulcast! If you fit the bill or know anyone that does, have a look below :)
🔥🔥🔥Currently hiring (remote, contract)🔥🔥🔥 3D Web Engineer:
angel.co/l/2wRAFL
Backend and Frontend Engineers:
angel.co/l/2wRptx
angel.co/l/2wRpwP
UI/UX Designer
angel.co/l/2wRKQf
---
This Week's Deep Dive: Web 3 meets Football Manager - Footium
I'm a big Football Manager fan.
In fact, I've loved a lot of football simulation games like New Star Soccer, Champ manager and goal in the past as well.
So when I was shown Footium several months ago, I knew I was minting a few clubs!
And I was quite lucky, because when Footium launched their NFTs - they sold out within 23 minutes.
3000 clubs in 23 minutes.

Pretty impressive.
Footium is Web3's answer to Football Manager.

For those less acquainted, Football Manager is a football management simulation game, that is primarily text-based but also has its own game engine, where you can watch your virtual team.
Footium, a multiplayer football management game, allows users to own a football club, manage the team and tactics, and develop new talent through their youth academy.
Essentially, your Footium Club is an NFT.
And the players your club generates and trains are also NFTs, that are tradeable.
Your club is essentially an NFT factory.
The introduction of player-owned assets in Footium creates a competitive, multiplayer game where users compete against each other rather than an AI. This also enables a transfer market, in-game economy and the chance to earn money from performing well.
And whilst the most popular game mode on the traditional football manager game is against the computer, Footium pitches all 3000 club owners against each other in varying divisions.

Like real football, the higher the division your team, the more it is worth.
Footium have just announced a $3.35m seed raise, which is pretty big.
That's just a tiny amount smaller than Soccer NFT leaders Sorare ($4m) raised during their seed round.
Now that's not to say Footium will become as big as Sorare, but this is just indicative of 1) how much VC money is flying around and 2) the amount NFT companies can raise due to their margins.
There are fewer overheads and if you're successful, you can do really well providing you maintain your momentum.
Ex-Manchester United player and England International Chris Smalling is an angel investor, alongside VC funds including BACKED, Animoca Brands, Stride VC and Entrée Capital.
They've raised quite a bit of money and have some pretty notable backers in BACKED & Animoca…so it's going to be fascinating to see where they go from here in terms of developing the game.
The Bull Case
People love Football management games.
Like, they really love them.

Many of them have cult followings and the communities they create are unbelievable.
And Footium is no different.
For example, here's Oldsea Stanley, an 8th division Footium club that has a Twitter account with ~ 500 followers. Which is brilliant.
In Sports, right bearers and holders usually win. They have all the leverage. It's what fans want…isn't it?
But I truly believe that creating your own IP that does not require rights from athletes or clubs can be just as powerful.
That's what *most* games are, at the end of the day.
Made up players and teams are sometimes better because they let the user make up their own stories.
You're not constrained by real-life players and brands.
Community, creativity, story generation and lore - are the things that create a sticky userbase.
Imagine buying a made up football team NFT, that has 8000 followers on twitter. I'm laughing as I write that, but the gaming industry is huge and the market is there. There's definitely a world where things like this do well, but overall, projects that don't require rights/licensing do really well.
Because of the lack of constraints.
Footium aren't guaranteed to succeed but if they do, this will be a big reason they do so.
The Bear Case
The Bull case is plain and simple. Gamers love lore and they love making their own stories that aren't ruled by real life constraints.
The Bear Case is a two parter:
Good games are F****** hard to make

Play-2-earn / play-and-earn is really difficult to get right
On 1), good games take time to make. Less so with text-based, less heavily simulated (graphics wise) games - but nonetheless - these things take time.
In the land of NFTs, time is warped.
Bored Ape Yacht Club raised $500m a couple of weeks ago and have only been around for a year.
NFT projects either live long enough to be prominent parts of this ecosystem, or they die really quickly.
When projects mint, that's their source of income (unless they have a vehicle/entity backing it that has a lot of cash to start with). If you don't mint out, usually, it's hard to turn that tide around.
If you mint out and then the secondary volumes are low or prices crash, it's again hard to maintain a team working on the project for too long a time.
These are generalisations, but you get my drift.
So you need time in a world where time is unforgiving.
on 2) game economies are very, very difficult to balance.
They're all very fragile.
They're rife with people buying game tokens and trading them for a profit without even wanting to play the game. Most games have tokenomies and require some form of tokenomics. And it's hard to generate demand for the in game token, most of the time.
Tokenomics is hard and almost nobody is an expert.
It's very difficult to make it sustainable without severe booms and busts.
Now presumably Footium will have a token here that acts as the currency to buy/sell players or in-game items within.
Maintaining some relatively decent price for that token will be their biggest challenge.
I mean, just look at the token price for the biggest play-2-earn game out there in Axie Infinity…
Footium have a smart young team behind them, some serious capital and some serious backers.
I think they'll create something that is loved by consumers in this space.
Time will tell; making blockchain capable games that have tokens is very difficult.
I'm bullish on a lot of NFT projects that aren't reliant on sporting IP.
But the job isn't done, just because you create something greenfield. In fact, the start is much harder due to not being able to leverage licenses.
But if you can build a core base of sticky users, you're onto something.
---
More sports crypto stories & things to put on your radar
Socios have signed Lionel Messi as an ambassador on a €20m deal.

Together we can do more. Together we can be more. Introducing

Socios.com

's first global ambassador, Lionel Messi.

#BeMoreThanAFan

April Fools day was fun for a lot of supporters trusts when it came to crypto

The MLS have signed with Sorare, as the unicorn continues their expansion. After hiring an American COO, and putting Serena Williams on the board, it seems North America will be a big target for them.

Micah Johnson has done amazingly well since he retired from pro baseball. His art is awesome and his NFT drops are really cool.

Steph Curry & Shaq feature in another FTX ad. Curry is an FTX ambassador!

Do I look like a crypto expert?! 😂 Thankfully

@FTX_Official

got me

ftx.us/notanexpert

and

@SHAQ

stop playin...

FTX @FTX_Official

Want to learn more about crypto? As the world's leading crypto expert, @stephencurry30 has got you covered...or does he? 👉https://t.co/KACxuGfVLq https://t.co/liVDS37DAP

FNATIC have launched an NFT membership program. It was met with mixed reception and definitely one I'll write about in the future. E-Sports & Crypto are going to have a long future together.
---
Great reads, great tweeting and more general 'stuff' that could impact you
Shaan is a great follow and continues to 'learn in public' when it comes to Web3.

Web3 won't be everything, but it'll likely change almost everything

The EU could face losing a lot of talent if they don't change tactics here when it comes to regulation.

Inorganic growth hardly ever works in Web3.
---
Thanks!
Thanks for reading the latest edition of the Sporting Crypto newsletter. I'm really happy to see so many people enjoying it and sharing it with their networks. If you enjoyed this, please tell your friends who might be interested - and share it on social :)

This newsletter is for informational purposes only and is not financial or business advice. These are my thoughts & opinions and do not represent the opinions of any other business or entity.